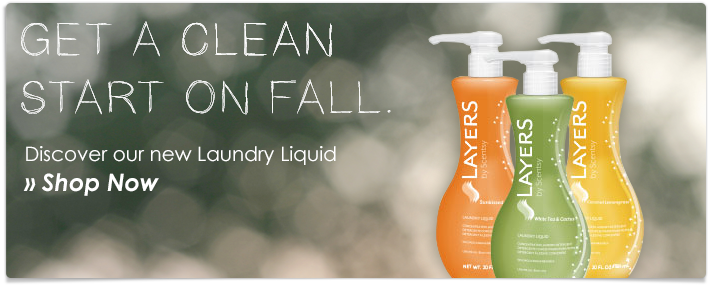 Scentsy Layers Laundry Liquid Detergent
Scentsy Laundry Liquid is a high efficiency HE laundry detergent that lives up to its name. Ultra concentrated Scentsy Layers Laundry Liquid delivers the perfect amount of amazing Scentsy fragrance and packs as much punch in a few easy pumps as a capful of traditional detergent. Our cutting-edge formula transforms the way cleaning agents bond with dirt and stains, lifting and washing them away and leaving every load of laundry remarkably fresh and clean.
Exclusive environmentally phosphate-free formula
Contains powerful stain lifters and brighteners
Ultra concentrated for maximum results and less waste
Designed to work alone or with Scentsy Washer Whiffs and Scentsy Dryer Disks for a blissfully scented laundry care experience
Available in eight Scentsy fragrances or fragrance free.