Scentsy Warmer of the Month
Every month Scentsy debuts a brand new Scentsy warmer and offers it on sale at 10% for that month.  For May, however there is no Warmer of the Month, due to the launch of Velata, a new Scentsy brand of chocolate fondue warmers.  Contact me for more info or to buy Velata today.
There is a new Scent of the Month for May 2012 for you to try out, and enjoy at the sale price of 10% off!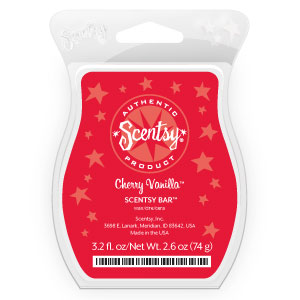 Sweet as the finishing touch atop your favorite sundae. Cherry Vanilla is a delightful swirl of candied cherry and sugared almonds folded into velvety white chocolate ice cream.
I LOVE this Scent of the Month and have been warming it since the minute I got it!  It's a sweet, fun scent that lasts a long time.  Reminds me of summer fun.  This is a great scent to pair with the Mother's Day Scentsy Warmer to make the perfect gift!
Each month Scentsy offers a Scentsy Fragrance of the Month so check back for June's Scent of the Month and scent review.
Scentsy Sale Price: $5.00 $4.50 ($0.50 off)