If you are looking for an on-the-go Scentsy product that can bring a great smelling fragrance to a purse, a gym bag, car, closet, drawer or some other item, then you need a Scentsy Scent pak.  These come in 30 different fragrances and besides being able to bring a great smelling fragrance, they also fit inside a Scentsy Buddy.  So you can use them in more than one place or switch them out for a new smell.  Toss it in and go!
Some of the best selling Scentsy Scent Paks are:
The Newborn Nursery Scent Pak:
The Clean Breeze Scent Pak:
The Satin Sheets Scent Pak:
Scent Pak Stocking Stuffers!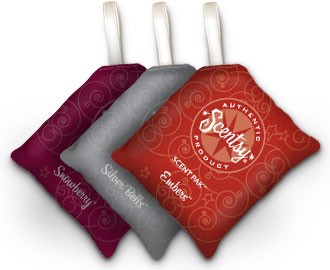 This season, Scentsy introduced seven NEW Fall/Winter Scent Paks to help bring your Scentsy Buddy to life and add comforting fragrance to drawers, closets, and bags. Toss Cozy Fireside or Embers in your bedroom bureau for a rich helping of sultry spices. Hang Silver Bells or Eskimo Kiss from a doorknob or slip aromatic Festival of Trees in your car. For the perfect hint of holiday warmth, stuff a stocking or two with Christmas Cottage or Snowberry and enhance that early morning spent opening gifts around the tree.
For more gift ideas, call or email me today!
If you need any help or suggestions, just send me a message or call me – I'd love to help!
~ Becky Sattler,
Scentsy Star Director
208-340-6538
Contact Me