Scentsy Wax spilled on your carpet?
Although Scentsy is SAFE and will not pose any fire hazard, it could still spill on your carpet!
I've been lucky to never have had Scentsy wax spill on my carpet (even with five little kiddies! Whew!), but I have had it spill down my bathroom wall. I found a few things that work, so I will post the "best practices" in case you need it too!
How to Get Scentsy Wax out of Carpet or Walls
Pick off as much of the Scentsy wax as you can.
Use an ice cube to chill the Scentsy wax to chip off more of the excess. Get as much as you can, but don't ruin your carpet.
Place a paper bag, paper towel, or piece of newspaper on the carpet where the wax spilled. Go over the paper with an iron on the lowest setting to heat the wax (a hair dryer would work too). Scentsy wax is formulated to melt at a low temp, so it won't take long. The paper will soak up the wax and pull it away from your carpet. Change the paper as needed until all of the Scentsy wax is removed.
If the wax is gone, but the wax color stained the carpet, use a clean paper towel to apply rubbing alcohol to any areas as necessary.
Hope this helps! Good luck with your Scentsy warmer and hope you don't have to use these instructions too often!
How to Change Out Scentsy Wax in a Warmer
Once you've cleaned up the wax spill from your carpet, a great way to avoid another spill is to change your wax properly. If you're wondering the best ways to remove Scentsy wax from your Scentsy warmer to change out the wax, click here to read my three tips for How to Change Your Scentsy Wax.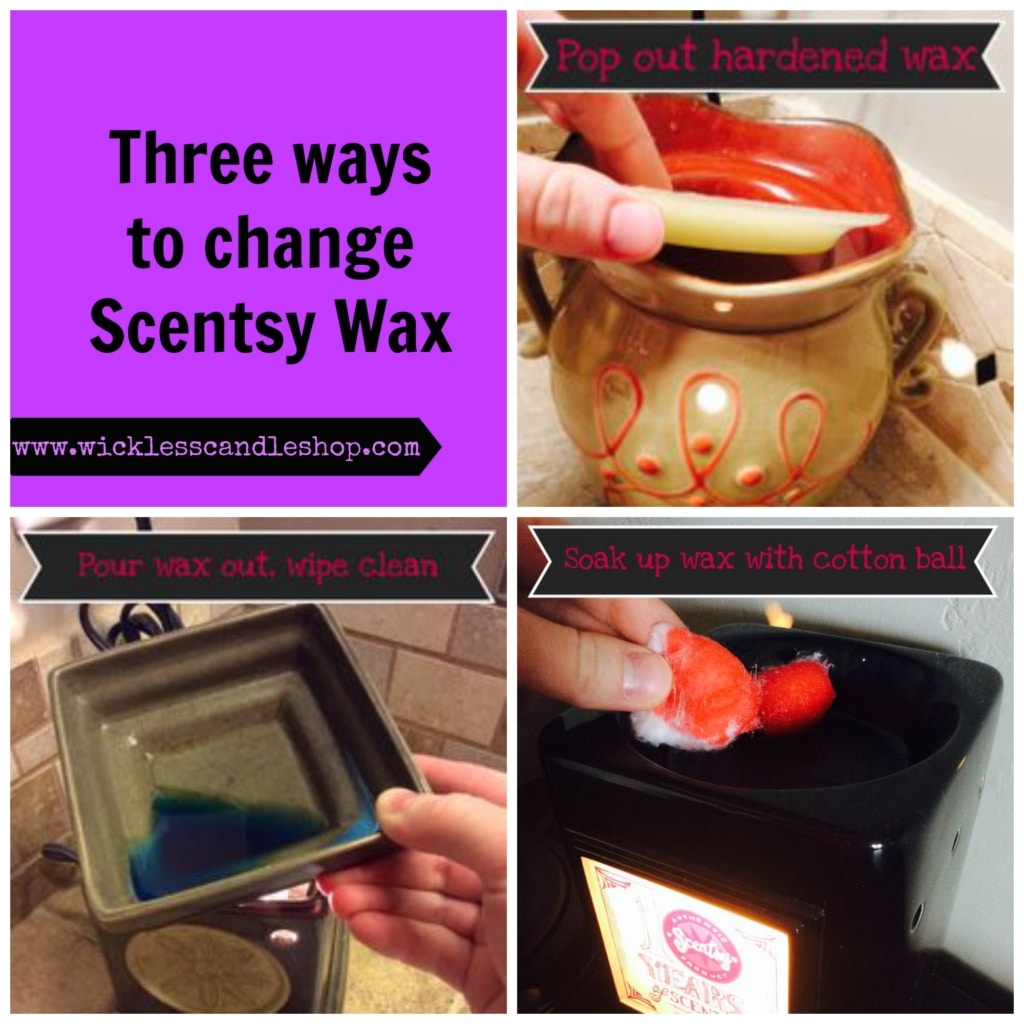 Buy Scentsy Wax Online
Let me know if you need me to help you pick out some new fun Scentsy scents to put in your Scentsy warmer... now that the wax is all cleaned up. 🙂 As always, buy five Scentsy Bars in a multi-pack, get one Scentsy Bar free!

Never spill wax again: Fans, Purifier & Pods
Get stunning, instant fragrance that lasts — in portable and plug-in styles. Just add your favorite Scentsy Pod fragrance, and you're set!
With amazing Scentsy Pod-focused products, you can choose from Air Purifiers, Wall Fan Diffusers, Mini Fan Diffusers, and the Scentsy Go.
My husband's favorite is definitely the battery-powered, portable, USB-charged Scentsy Go! This cool Scentsy product is a modern, minimalistic design warmer with multiple color modes and uses a quiet fan below a pod of highly scented Scentsy beads to distribute Scentsy fragrance in your space! Follow the link to learn more about our Scentsy Go products or follow this link to Buy Scentsy Go. And if you want to watch a funny commercial we made for the Scentsy Go follow this link to our How to Use the Scentsy Go.
~Becky Sattler, Independent Scentsy Star Director
208-340-6538
Contact Me