Scentsy Layers Solid Perfume
Brand new Scentsy Solid Perfumes available now in the Spring Summer 2013 Scentsy Catalog.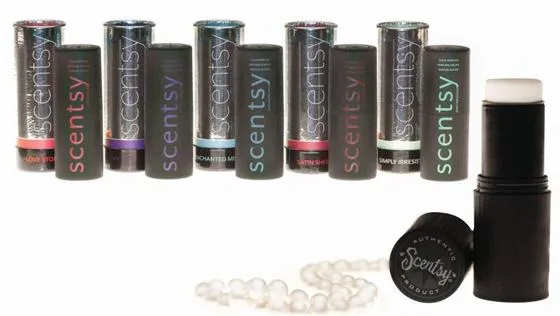 Available in 20 Scentsy Solid Perfume scents:

What Makes Scentsy Perfume Different
Scentsy Solid Perfume is applied to the pulse points on your wrists and not only deliver long-lasting, portable perfume, but are designed to be nourishing and moisturizing to your skin.  Here are a few specifics:
1.       Paraben-free
2.       Sulphate-free
3.       Phthalate-free
4.       Benzene-free
5.       Silicone-free
6.       GMO-free
7.       Propylene glycol-free
8.       Dye-free (no added colorants)
9.       Never tested on animals
Fine Fragrance versus Home Fragrance
Scentsy solid perfumes are concentrated fine fragrances, specifically designed to be wearable (cosmetic grade) and work with your skin to create a fine perfume unique to you.  Home fragrances, on the other hand, such as Scentsy Room Sprays, are not designed to be worn or come in contact with skin or clothing for long durations.  So, now you can enjoy Scentsy in your home, and wear it with you anywhere you go!
Great Perfume at a Great Price
Scentsy Solid Perfumes are sold for only $18 and are .5 oz/14 g, so they are a great perfume at a great price.  Comparable solid perfumes from other companies (Mary Kay fragrance pencil) retail for a similar price, but offer less than one-fifth of actual solid perfume (.08 oz.).  Sephora sells CLEAN Pencil Perfumes in similar size, but retails for $30.  Another company sells .24 oz Scent Sticks for $28.  With a Scentsy Solid Perfume, you get up to four times the amount, for about half the price.  Scentsy offers a premium perfume at a practical price.
Try one of the Scentsy Solid Perfumes today and see for yourself how much fun it is to take your favorite Scentsy fragrances with you everywhere you go.
Layers of Scentsy Fragrances
The Solid Perfume products are part of the new Layers by Scentsy line of bath, body, and scented laundry products.  The same high-quality fragrances you love to use to scent your home, now available to scent your body!  Available in Scentsy scented shower cream, shower gel, body lotion, hand cream, body butter, solid perfume, body spray, Washer Whiffs, and Dryer Disks.