Top 5 Reasons to Sell Scentsy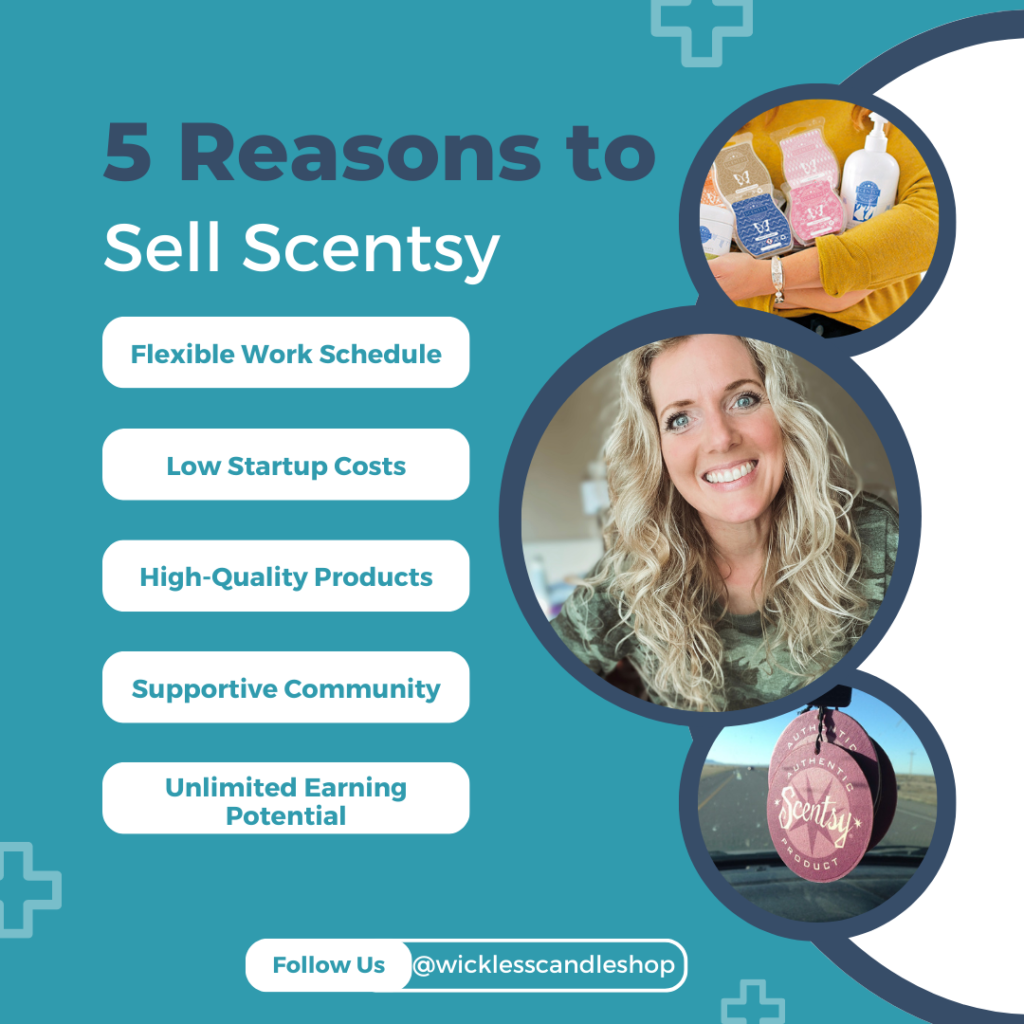 Are you looking for a great work from home job opportunity? Many families are having a hard time making their income stretch to match their budget, especially with inflation and rising costs for everything.
To help you decide if Scentsy is the right fit for you, here are the top 5 reasons you should sell Scentsy.
I joined Scentsy when I was needing to help supplement our income, but wanted to still be a stay at home mom. Selling Scentsy has been the best thing for our family, but also for me personally. Every day I have something to work on, that won't just have to be started all over again (like changing diapers, making beds, or even cooking dinner!).
I have found there are more reasons to sell Scentsy than I ever could have imagined when I started, and here are just a few:
Flexible Work Schedule
Selling Scentsy allows you to be your own boss and set your own hours, making it ideal for flexibility in you work-life balance (especially as a busy mom). I know I worked on my business during nap times, and after the kids went to bed at night. Now that they are older, the flexibility allows me to be home with them all summer and work in the early mornings. That way, we can get up and go on fun adventures all day, and I never miss out!
Low Startup Costs
Scentsy offers a relatively low-cost entry into the business, making it accessible to those looking to start a business, without a big upfront investment. When I joined, I made plans to ensure I could sell enough in my first month to pay off my starter kit. If it turned out that I didn't like selling Scentsy, I could walk away without any debt or big loss.
High-Quality Products
Scentsy's wide range of fragrances and home products are known for their high quality and unique scents, making it easy to attract and retain customers. I don't have to worry about a competitor's product, because my customers always come back for the real deal. Our products are also consumable, so customers come back to buy again to keep their house smelling good.
Supportive Community
Joining the Scentsy team means becoming part of a supportive network of consultants who share tips, strategies, and encouragement to help you succeed. Our team name is "The Best Team Ever", because we really are such a great support and resource for each other. It's like instant friends who become like family. We are all in this to help each other succeed and cheer each other on.
Unlimited Earning Potential
As a Scentsy consultant, your earning potential is based on your efforts and sales. There are no income caps, allowing you to work towards your financial goals on your terms. My husband gets an annual review at his corporate job, and if they decide that he has done a good job, he gets a small percentage raise. When I sell Scentsy, it's my own business, and I can determine (through my efforts) if I need to make a little more for our vacation, school supplies, or anything else.
Benefits to Selling Scentsy
Selling Scentsy has been such a great decision I made all those years ago. It has helped our family finances, given me opportunities to grow and develop, and has even taken us on trips that wouldn't have happed if they didn't "make" us go.
If you are looking for a great way to make money from home, these are 5 reasons to sell Scentsy. There are many more. We would love to have you on our team, so you can find out all of your own reasons!
Becky Sattler
Scentsy SuperStar Director